General News: NYMA Announces Partnership with Butterhill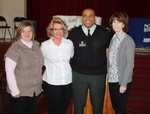 Announcing plans for NYMA's new elementary program (left to right): Nancy Mahoney, Helen Bunt, Maj. Coverdale and Susan Jones.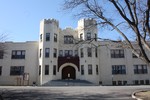 NYMA will open a lower school for grades one through six in the fall of 2011.

March 28, 2011

New York Military Academy made it official on Monday that it is partnering with the Butterhill Day School to offer classes for students in grades one through six in what is being called the "lower school."

In a press conference at NYMA, the academy's interim superintendent, Major Jeffrey Coverdale, was joined by Helen Bunt, owner of Butterhill and Susan Jones, the director of Butterhill, along with kindergarten teacher Nancy Mahoney.

Major Coverdale discussed how the partnership made sense because of Butterhill's 30-year track record as an education provider. He also noted that Butterhill's progressive curriculum fits in well with the goals that NYMA established last year when it brought in new directors to raise academic standards for the cadet program, which serves grades seven through 12. The renewed focus on educational standards is a key part of the effort to turn the school around after its former board of directors nearly closed the 122-year-old institution last year.

NYMA's lower school will not be a military one, Coverdale said, and the younger students will be separated from the cadet population, with classes held in the former Dingley Hall. "We are not here to build mini-cadets but to build a robust educational program," Coverdale explained. He said that the curriculum will include a performing arts program with poetry, drama, music, yoga and art, along with Spanish and possibly Chinese. The school will also offer a a full physical education program and a catechism-based class for parents looking for a religious program, he said. The addition of the religious component is an apparent appeal to parents of students of St. Thomas of Canterbury school, which is closing in June.

The school would like to open its doors in September with 100 students, according to Helen Bunt, who said that she and her staff will be interviewing teaching candidates and administering student applications. She said the student-teacher ratio will be kept low, with a teaching assistant added to a classroom if there on more than eight students.

Cornwall town supervisor Kevin Quigley attended the press conference as well and congratulated directors of both schools. "Expect nothing but great teamwork from them," he said.




Comments:
Add a Comment:
Please signup or login to add a comment.