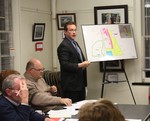 NYMA board president David Fields presents the proposal for subdividing the NYMA property.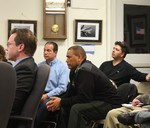 NYMA representatives listen to the town council on Monday. From l to r: David Fields, site developer Ray Yannone, NYMA interim superintendent Maj. Jeffrey Coverdale and investor Wayne Corts.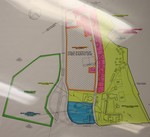 In the plan, the yellow area is the existing campus, the pink area is the area designated for residential houses and lots, the blue area is potentially residential or commercial, the green area across 9W is The Farm, and the orange area is the playing fields and stables.

December 08, 2010

I Request for the Town to Maintain their Position toward Safeguarding the Playing Fields & Surrounding Acreage of NYMA.

This is Preferable to most all rather than that of congested Housing Development in this Pristine Area.


Respectfully,


Brian M.Tourville
nyma Class 1971




My impression of the meeting was that NYMA continues to look out for it's own bottom line. They are not giving anything away for free. They are interested in increasing their own value as to become more attractive as an entity. This is a fair position. I do give the Town Board credit for some very good pointed questioning. The meeting seemed all well and good except for one thing that bothered me. That section west of 9W they call "The Farm" was almost completely glossed over. That is a huge chunk of the property to not have any plans for. With all the development along the west side of 9w you would think it was just as high a priority to secure. All it would take would be for the floundering development currently underway to fail and be bought out. That land and "The Farm" would make a huge chunk of the town to exploit. We need to safeguard "The Farm".




How about tearing down the buildings that are proposed for high density use. They are most likely enneficient. The site could be used as additional athletic fields.




Cornwall does not need high density or senior housing....the cornwall commons is documentation in and of itself. This is typical and in true form of a set up....the buildings will not sell, or be populated (even though there may be overwhelming "applications" of those desiring to fill the housing)....this is all part of a master plan...the school prides itself on its academics and desirablity...have they considered the effect of a parent considering to send its child to what was once a rolling campus to what could easily be a densly populated and perhaps lower income "project"....or worse, and eyesore left to sit, half built, until the age restrictions can be removed in order to allow anyone to populate the units. In my humble opinion, this is a total set up, and the town is more vulnerable than ever.




Rachael, I believe you are talking about the building sitting idle at the corner of Quaker and Cedar, not Cornwall Commons.




Thanks Kate...that's what I meant.




1) Just where do they expect to get all these senior citizens or emergency
personnel? Quite a puzzle to me.

2) NYMA's plan is for us to approve high density housing so if NYMA ends of on the seller's
block it will be very difficult to fight high density housing. This is a blue
print for those wishing for high density to get what they want.

I would hope the citizens of Cornwall and the entire board have a better self image of
themselves than NYMA seems to think we have. I do not think we were born yesterday.

If NYMA wants some things (if they truly want to succeed and I am not even
sure of that, judging by what I read), Cornwall should get substantial
consideration in return. It is not a one way street where
Cornwall gives, NYMA takes, and Cornwall loses.

This is a paste job from an email I sent to the Town Board. Sorry if it prints in a choppy manner.




What is the true definition of High density Housing. Is an apartment complex considered high density? or muilti family. Either one should be discouraged. Lets be educated someone who knows please post. I am concerned that the above posts are on target. Are you?