Click to visit the
Official Town Site

General News: The Legacy of Ralph Ogden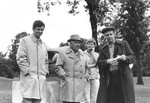 Ralph Ogden (second from left) and the artist Claes Oldenberg (on the right)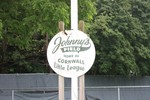 Johnny's Field is named after Ogden's son.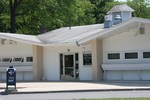 Ogden built the Mountainville firehouse and the post office next door.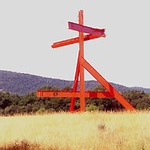 Large steel sculpture, like Mark Di Suvero's Mother Peace, inspired Ogden's imagination.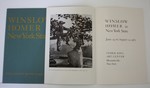 The exhibit catalogue from the 1963 show of Winslow Homer's paintings made in Mountainville.

September 02, 2010

9/2/2010

September is a beautiful time to visit Storm King Art Center in Mountainville, to see its amazing modern sculpture set among gentle slopes, wavy grasses and woods just beginning to turn colors. But before you go, take a moment to learn about the man who created the sculpture park 50 years ago, a businessman whose generosity touched many in Cornwall, Ralph E. Ogden.

Where can you find evidence of Ogden's work today? If you stand outside Cornwall town hall, you can see the public swimming pool that he gave to the community in the early 1950s. He also donated several acres of land around town hall, including a house that he tore down to create a more gracious front lawn. Across the street, the Sands Ring Homestead received a cedar shake roof courtesy of Ogden* as well.

Ogden Left His Mark Around Cornwall

Up at the Cornwall Little League fields, Ogden built the major ballfield when the league first launched in the 1950s and he dedicated it to Johnny, his only son who died in an automobile accident at age 18. The sign for Johnny's Field recently re-appeared after a long absence, reportedly discovered in the basement of the burned-out concession stand and returned to its proper place.

You can find his legacy at the Hudson Highlands Nature Museum, where he was a major benefactor of the museum's Boulevard operation. A part of the museum is called the Ogden Gallery. Up on the mountain, Ogden donated funds for the construction of the library at Storm King School, where he also created the H. Peter Stern scholarship, named after his son-in-law and partner in the creation of the Storm King Art Center.

St. Luke's Cornwall Hospital also benefited from Ogden's largess. He financed the construction of a cancer care unit after his first wife, Beatrice, died from the disease in 1935. Today his name is one of a dozen on a dark bronze plaque behind the receptionist's desk in the original hospital building.

How Ogden Became Entwined with Mountainville

Several family members and people who knew Ogden recently talked about his giant-sized personality and boundless energy that led him to create the art center fifty years ago.

Ralph Ogden's daughter, Joan Stern, remembers a man who was a very hard worker and when she was young, seemingly pre-occupied with the family business, Star Expansion. The factory, which produced steel fasteners, was located in Bayonne, New Jersey. As a very young child, Joan lived with her father and his wife, Beatrice, in New York City but when the economy plunged in 1929 Ogden moved the family into his parents' home in Mountainville and endured long commutes to work.

To relieve his stress from the business, Ogden, known as Ted to his friends, spent long hours working on his farm, creating projects in the barn or overseeing a herd of Holstein-Freesian cattle that would eventually win prizes nationwide. Ogden's granddaughter, Bea Stern, found evidence of his drive to build even as a teenager when he built a gazebo with his own hands on Pea Hill in memory of a fiancee who died before they could wed.

A Love of Land and Machinery

Family members also speak of his great love for the land and the landscape on the hills beneath Schunnemunk Mountain, where he eventually decided to relocate his factory. Star Expansion soon was the largest employer in Cornwall with some 500 employees. Without the commute, Ogden had more energy for the farm and surrounding lands, especially after construction of the New York State Thruway in the early 1950s turned part of it into a gravel pit..

Cornwall town clerk Elaine Tilford Schneer described how her father used to drive around the hills with Ogden while he made plans. He created the first water system along Taylor Road, digging wells and building an underground system to his dairy farm and the Star Expansion factory.

Ogden's three grandchildren, Bea, Lisa and John Stern, shared warm memories of the man they called Opa, which is German for grandfather. "When we were young, he had this car, it was a convertible, and he would pick us up in the morning and we would sit in the car, on his lap, while he sang," Lisa Stern said in a recent interview. "We'd stop at Ketcham's store and buy a big bag of cookies then he would drive around and check the farms."

Georgeen Zlock remembers seeing Ogden when she was a young girl playing outside Ketchum's store in Mountainville, where he would let all the kids swim in or ice skate on the ponds on his farm. Ogden later hired Zlock at Star Expansion in 1972 and she still works at the art center. "He was an amazing person and he absolutely loved people," she said. He also loved the hamlet of Mountainville, where he built the post office and the firehouse.

Art Takes Center Stage in His Imagination

Bea says her grandfather's interest in art grew during this time under the influence of his second wife, Margaret, and his son-in-law, H. Peter Stern, with whom he created the Storm King Art Center in 1960.

Ogden's daughter, Joan, says that her father drew on other family members for some of his art connections and that he found a 'soul-mate' in her former husband, H. Peter Stern, who became his partner at Star Expansion and at Storm King Art Center. "They got along fabulously. They had a symbiotic relationship, " Joan said. "My father had lost his son and Peter had lost his father in a plane crash so he needed a father and my father needed a son and they became very close."

David Collens, the director and curator of the art center, explained recently that the first exhibits at the center in the early 1960s were mostly two-dimensional prints and paintings, like the 1963 show of the work of Winslow Homer, a painter who spent a couple of summers in Mountainville. It was only later, when Ogden and Stern connected with the sculptor David Smith that the concept of a sculpture park really took off.

The large-scaled welded work of Smith appealed to Ogden, who had created with metal and wood since his youth. He brought 13 of Smith's sculptures to the sloping hills of Mountainville and the seeds were sown.

Bea Stern says she can still feel her grandfather's spirit around her in Mountainville. "I am aware of his legacy every day," she said recently, "mostly because of his feeling for the landscape. He planted allees of trees all over Mountainville, he loved to carry out building and infrastructure projects, and had a wonderful understanding of site." "

Visitors can experience Ogden's legacy outdoors at Storm King Art Center through the end of October.


*The Ogden Family Foundation recently donated a $5,000 matching grant to the Friends of Sands Ring Homested Museum for a roof replacement. Contributions are welcome to the Friends of Sands Ring.




Comments:
Very interesting article.

Harry Wickey, C-o-H artist with works in NYC museums, Bucknell and elsewhere was instrumental as curator in selecting works for the Center and commented on Ogden's facination with Japanese prints
porter warren, 09/03/10 4.33pm
Add a Comment:
Please signup or login to add a comment.