Computer Classes for Seniors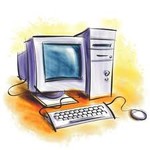 Computer class at the public library.

March 09, 2020 —March 30, 2020

Cornwall Public Library Offers Computer Classes for Seniors

CORNWALL – The Cornwall Public Library will host two, four-week programs, Digital Literacy for Seniors, running Mondays in March. Senior citizens are encouraged to sign up for one of two classes, at 1 p.m. OR 2:30 p.m., on March 2, 9, 16 and 23, with March 30 reserved as a snow date. The classes will be held in the Library's community room.
Sponsored by a grant from the Ramapo Catskill Library System and Friends of Cornwall Library, the program is being offered with the goal of empowering seniors to feel comfortable and confident in using computers. Seniors will learn how to use the Internet, email, create documents, and more. Participants will learn to use computers independently and complete the 2020 Census online.

Space for these programs is limited. Please register online or by calling the Library at 845-534-8282.




Comments:
Add a Comment:
Please signup or login to add a comment.