Click to visit the
Official Town Site

General News: Local Resident Worked on Oscar-Nominated Film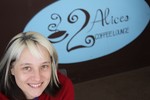 Aurelia Winborn relaxes between films at 2 Alices Coffee Lounge, which she owns with her husband.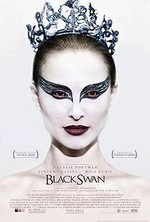 Natalie Portman as the tragic Black Swan.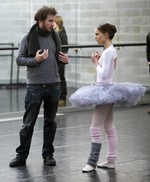 This scene from Black Swan was shot more than 20 times with a single camera capturing different angles each time.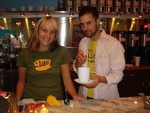 Aurelia and Mikey love coffee - and films.

As Oscar night approaches this Sunday, one Cornwall-on-Hudson resident will be paying special attention to the film Black Swan, which has been nominated in five categories, including Best Picture.

Aurelia Winborn worked as an assistant camera operator on Black Swan, where for ten weeks she was a key part of a tight-knit crew that moved seamlessly along with the actors in this highly choreographed film about a dancer (played by Natalie Portman) whose hold on reality shatters as she prepares for the lead role in Swan Lake.

Cornwall residents may know Aurelia as the co-owner with her husband, Mikey Jackson, of 2 Alices Coffee Lounge. But when she is not ordering supplies at the popular coffee spot or playing with her son, Atticus, Aurelia can be found working as a first assistant camera operator on film productions.

Darren Aronofsky directed Black Swan, which is nominated for Academy Awards for Best Director, Best Choreography, Best Editing and Best Actress in a Lead Role, in addition to Best Picture. Matthew Libatique was the cinematographer.

Her Job is Keeping the Shot in Focus

Aurelia has worked with Libatique on several other productions, including Inside Man and three other Spike Lee movies. Her job in a film production is to make sure that the camera stays in focus as the actors move across a set. Aurelia says that she has to measure the distance from the actor's face to the camera, a distance that changes as the action starts, and adjust the focus of the camera while the action takes place.

The dance scenes in Black Swan created some very big challenges for the film crew. As the dancers moved through a room lined with mirrors, four people moved alongside: the camera man, with a hand-held 16mm camera, a boom mike operator, a grip, and Aurelia. She notes that in several scenes, the crew could be seen in the mirrors and had to be erased from view.

"I have to know where the camera is at all times in relation to the actor," Aurelia explained earlier this week. "I had a hard time staying out of the way and doing my job at the same time." In the final dance scene when the full ballet corps is performing, Aurelia said she had to be careful not to run into any of the dancers and not to fall off the stage. This scene, and several others, were filmed at the New York State Performing Arts Center at SUNY Purchase.

Hand-held Camera Added Winning Qualities to Film

The fact that the movie was shot with a small hand-held camera gives it the feel of a documentary film and, according to Declan Quinn, an award-winning cinematographer who lives in Cornwall-on-Hudson and who is a voting member of the Academy of Motion Picture Arts and Science, that technique may be key to its nomination for best cinematography. Declan notes that the nominations in this category are made by other camera operators who may have been refreshed by the effects produced by the hand-held camera rather than the slick pretty images made by digital cameras. "The dance sequence at the end was incredible," he adds.

Aurelia agrees that the cinematographer did "an amazing job." The film is a psychological thriller and some of the effects are created by shooting in low light to create a dark, shadowy mood.

The cast and crew worked long 13-to-14 hour days and even the lead actress, Natalie Portman, was on location from early in the morning, Aurelia said. "Natalie was amazing," Aurelia recalled, "she worked so hard." She also described actress Mila Kunis, who plays a rival dancer, as "hilarious" when she hung around with the crew during breaks from shooting.

Success Comes From Hard Work

Aurelia's success in film comes after two decades of working in production, a track she choose after abandoning an acting career at age 21. She moved to New York City from Texas in 1995 and worked her way up from low-budget industrial films to gain recognition in her field. This week she begins work on a new movie, Extremely Loud and Incredibly Close, starring Sandra Bullock and Tom Hanks.

Her advice for people who want to get into movie production? Aurelia said she tells people it is an extremely difficult business and it takes up your whole life, making it hard to have other relationships. She may be lucky, she said, because she gets to do two completely different things – work on sets with famous actors, then come back to Cornwall-on-Hudson, where she can make coffee at 2 Alices and sit and chat with local people who come in.

(To see one of the more difficult scenes to shoot, check out this clip posted on the New York Times website.)










Comments:
Add a Comment:
Please signup or login to add a comment.