General News: Village Politics of the 70s - One Man's View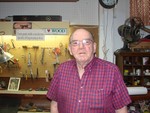 Thomas Trainor in his workshop at Butter Hill Antiques.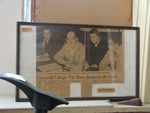 Trainor made headlines in the 70s.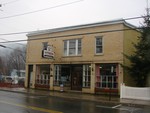 Trainor's antique store on Hudson Street.

February 10, 2008

As a new electoral season opens in Cornwall-on-Hudson, one man in the village looks back at his own decade in public office 30 years ago.

Thomas Trainor can be found most days in the back of the Butter Hill Antique Shop on Hudson Street, where he refinishes antiques for re-sale. He lives upstairs in the same building, which housed the Cocks family store for nearly 100 years.

Trainor, who grew up on Wood Avenue, follows a relatively quiet routine as an antiques dealer, but years ago his life was anything but sedate. In the early 1970s, Trainor was newly-retired from his job as deputy director of cadet activities at the United States Military Academy and he was fired-up, ready to shake up village politics.

At that time, Michael Donahue had been mayor of Cornwall-on-Hudson for twenty years and Trainor didn't like his style, criticizing him for being too secretive for the public good. Calling for openness in village government, Trainor ran for a trustee seat. "I thought we should talk more to the newspapers about what we were doing and thinking," Trainor recalls, "but he thought it would create controversy. Things happened that were kept quiet."

After a failed attempt in 1970, Trainor was elected trustee in 1971. He also served simultaneously on the village planning board.

Trainor says that his own style was "controversial and confrontational." "I asked questions all the time," he says, "I questioned the thoughts of the mayor and the council members."

In one incident toward the end of his tenure, Trainor says he took on the village police chief, Nick Corea, whom he accused of insubordination. Trainor recounts a meeting in which he slammed his fist on the table and demanded the chief be fired, and he was.

Many in the village were unhappy with the move. "People would holler at me," Trainor recalls, saying things like 'If we can't run you out of town, we'll burn you out.' I got spit on."

By late 1978, Trainor decided he'd had enough. Mayor Donahue, who he now says was a decent and honest man, was already gone, replaced by Charles Obremski. A new generation of village trustees -- Edward Moulton, Charles (Rudy) Hahn, and Dick Randazzo -- was sitting on the board. Moulton was running for the office of mayor and Trainor decided to step down.

When he left office, Colonel Russell Blair wrote a letter to the

Cornwall Local

, praising Trainor. "Who can forget his classic public encounters with the venerable Mayor Donahue, or his firm and sometimes stubborn stance in the face of hecklers and foot-stomping opponents at public meetings?" Blair wrote. "He is 'his own man.'"

Looking back today, Trainor thinks he would have been more effective in office if he'd been less abrasive. "Ego was driving me," he says, "I had the strong feeling that I knew the all answers when I didn't even know what the question was," he says.




Trainor talks about his early life in the village here.





Click on any photo for a larger view.





Comments:
Add a Comment:
Please signup or login to add a comment.