General News: Legion Sells Poppies for Memorial Day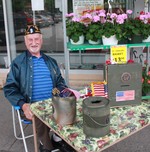 Ed Flynn, one of several members of American Legion Post 353 selling poppies this weekend.

Ed Flynn, a past president of the American Legion Post 353, was outside of Cornwall Farms on Friday, offering hand-made poppies to shoppers and passers by.

Flynn said that the funds raised through the sale of the crepe paper poppies will be used to purchase American flags that will be placed on all the veterans' graves next Saturday. The public is invited to meet at the Legion Hall in River Light Park, next to Munger Cottage at 9am to take part in this annual dedication.

Memorial Day weekend celebrations continue through the weekend, with a breakfast on Sunday morning at the Legion Hall from 8 am to noon.

On Monday, the annual Memorial Day parade kicks off at 10 am on Payson Road in Cornwall-on-Hudson, then heads down Hudson Street to Main Street and Chadeayne Circle in Cornwall. A memorial service honoring present service members and veterans will he held about 11:00 am at the Veteran's Memorial across from Cornwall town hall. The public is invited to attend.




Comments:
Add a Comment:
Please signup or login to add a comment.